SUNDAY WORSHIP GATHERINGS:
8:15 and 11:00 a.m.
If you visit with us on a Sunday, you will find MacArthur Blvd Baptist Church to be filled with friendly, compassionate people who extend a warm welcome. Please relax and enjoy your time celebrating the risen Christ. Sing and worship to a diverse blend of contemporary worship songs, gospel music, and hymns. The sermon will be Biblical in content and expositional in style.
Read our most recent Covid-19 protocols here (updated August 13, 2021).
WHAT TO EXPECT
It would be our pleasure to have you as our guest. We are passionate about being a church that is Christ-exalting, Biblically driven, multiethnic, and Kingdom advancing.
You'll see some people wearing slacks or dresses, while others may have on jeans and tennis shoes. We don't want you to worry about what you wear, we are just pleased to have you visit.
EQUIPPING CLASSES @ 9:45 a.m.
In order to better equip one another in core areas of the faith, we offer Equipping Classes that cover a variety of topics. Learn more.
COMMUNITY GROUPS: On-Campus & Off-Campus
Community Groups are smaller communities within the larger community of MacArthur Blvd. Community Groups equip people to live a life in community through Bible study, prayer, and fellowship. On-Campus groups meet at 9:45 a.m. on Sundays, while Off-Campus groups meet at various times and locations. Learn more.
WORSHIP CARE AND NEXT-GEN COMMUNITY GROUPS
Community Groups (birth-12th grade): 9:45 a.m.
We offer age-appropriate Community Groups for children from birth through 12th grade at 9:45 a.m. The staff and volunteers in our children's programs love kids and participate in child protection training and a background check.
When you arrive, come to any of the check-in desks and a greeter will guide your family through the process.
Worship Care (birth-PreK):  8:15 a.m. and 11:00 a.m.
We offer Worship Care for children birth-PreK during our Sunday Worship Gatherings.
PRESCHOOL & CHILDREN
DURING THE SERVICE
Infants through Pre-K may attend Worship Care in the Preschool area while you, the parent/guardian, attend the Worship Gathering. Your child may remain in the Preschool area during the service and your Community Group session.
Our Kindergartners through 5th graders attend the Worship Gathering with their families so they have the opportunity to grow in a Life of Worship and a Life in Community through the modeling of others and personal participation. Our church family understands that this is an active and sometimes noisy process with a valuable purpose. A "Growing in Worship" worksheet is available every week at the welcome stations and designed specifically for each Worship Gathering. If you feel like your kindergartner is not ready to grow through this experience, you may register them for two Community Group sessions.
Does your child have special needs that make participating in the Worship Gathering and Community Groups a unique challenge for your family? We want to provide a place of community that is worshipful for your family but know that there is not one specific plan to support that goals. Please contact Pastor Jamie (jbrooks@mbbcirving.org) so you can work together to plan a meaningful family experience.
Students
Students, grades 6-12, meet at 9:45 a.m. in the Student Assembly room. After announcements, devotion, and prayer, they break out into age and gender-specific Community Groups. Students are encouraged to attend the 11:00 a.m. service with their family and/or friends.
More about the Student Ministry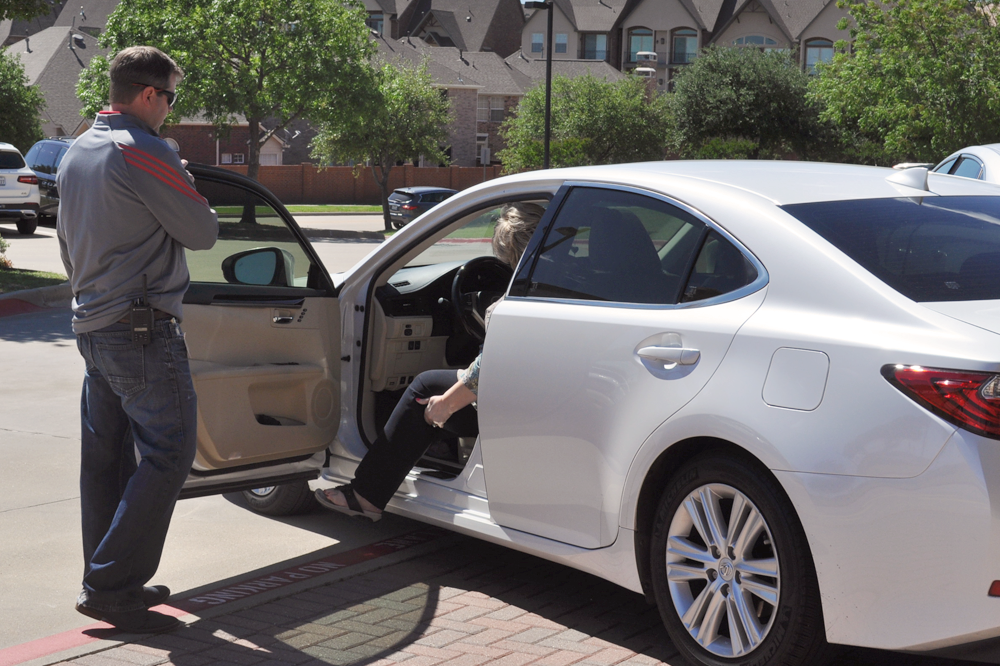 PARKING & COMPLIMENTARY VALET
We offer complimentary valet service for guests, families with young children, handicapped individuals, and senior citizens. The valet is located at the main entrance and right next to the Children's entrance.
If you prefer to park your own car, we have signs that direct you to one of the four entrances. If you would like to plan ahead, you can view a PDF map of the parking lot and building.
LOCATION
ADDRESS:
8001 Mustang Dr. Irving, TX 75063
PHONE:
972-373-9833
Contact Us
If you have further questions, feel free to send us a message below, or give us a call at 972-373-9833.